COVID-19 Support for Business
The Town of Caledon is committed to supporting local business during the COVID-19 pandemic.
On this page:
---
COVID-19 Response
Effective Thursday, April 8, 2021 at 12:01 a.m., the government is issuing a province-wide Stay-at-Home order requiring everyone to remain at home except for essential purposes, such as going to the grocery store or pharmacy, accessing health care services (including getting vaccinated), for outdoor exercise , or for work that cannot be done remotely.
Workers Getting the Vaccine
For people who work in Peel Region but do not live in Peel and are considered essential workers.
For general inquiries, individuals can call the Provincial Vaccine Information Line number 7 days a week from 8 a.m. to 8 p.m. at 1-888-999-6488.
Assistance Programs
Canada Emergency Rent Subsidy (CERS)
This subsidy provides a direct rent and mortgage subsidy of up to 65% of eligible expenses to qualifying businesses, charities and non-profits, and up to 90% with added lockdown support. This support is available directly to tenants.
Property Tax and Energy Cost Rebates Program
A program providing grants to eligible businesses that had to temporarily close or significantly restrict services due to modified Stage 2 health measures.
Tourism and Travel Small Business Support Grant
The Ontario Tourism and Travel Small Business Support Grant provides one-time payments of $10,000 to $20,000 to eligible small businesses (less than 99 employees) in the tourism and travel sector. Deadline to apply: June 25, 2021.
Government of Canada
A full list of the programs and subsidies available from the Government of Canada to support businesses affected by COVID-19.
Government of Ontario
The Government of Ontario launched a webpage providing information and advice to help business navigate the economy during COVID-19.
Get your business online!
Take advantage of free support from the Digital Main Street program: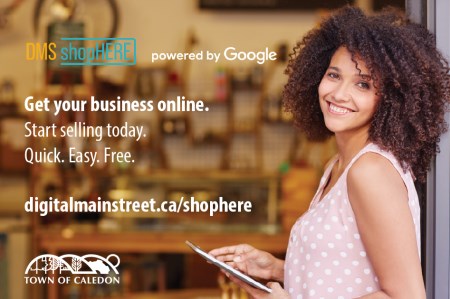 ---
News and Information
Government of Canada
The latest information and updates from the Government of Canada.
Government of Ontario
Get the latest case data and updates, learn how to protect yourself and others and get advice on what to do next if you think you might have COVID-19.
Region of Peel
View the latest case numbers and public health guidelines.
Town of Caledon
---
Training and Events
Take advantage of our free online webinars and training.
---
Resources (General)
Personal Protective Equipment (PPE)
Find a PPE supplier here:
Peel Public Health
Guidance and resources:
Resources to prevent COVID-19 in the Workplace
Get information to help develop a plan to protect workers, customers and the public from COVID-19. Find posters, tools and guidance for Ontario workplaces.
Hotline
Call the Ontario Stop the Spread Business Information Line at 1-888-444-3659.
Safety plan
Learn how to develop a safety plan for your business.
---
Resources (Sector-Specific)
Masks
Masks are mandatory in Caledon as of July 10. As a business, here's what you need to do:
By July 15, 2020, develop a policy (use our template).
Post signage at all entrances (use our template).
Train your employees.

Customers or visitors must wear a face covering before they enter your business AND and while they're inside.
Employees must wear a face covering EXCEPT in areas where the public does not have access or where the employees are behind a barrier.
Children under two, people who have trouble breathing, and people who are unable to remove a mask without assistance are exempt.
Anyone who claims that they are exempt is NOT required to provide a reason or any proof.
If in doubt, be sure to consult the by-law or contact us.

Make sure no one enters your establishment without a face covering.
Keep a copy of your policy handy in case one of our by-law officers asks for it.
Please note: If a customer or visitor does not wear a face covering you can ask them to put one on or leave.
For more information, view the face covering by-law.
---
Links
Canadian Federation of Independent Business (CFIB)
Canadian Chamber of Commerce
Business Development Bank of Canada (BDC)
Export Development Canada (EDC)
Workplace Safety and Prevention Services
Canadian Mental Health Association