4 Walker Road
The Town has received proposed Official Plan Amendment and Zoning By-law Amendment applications.
Current Status
Official Plan Amendment application and Zoning By-law Amendment applications were approved by Council on March 30, 2021
Property Description
The subject lands is located at 4 Walker Road, southwest corner of Walker Road and McCaffrey's Lane
Town File Number(s): POPA 19-05, RZ 19-07
Project Name: 4 Walker Rd.
Related File Number(s): SPA 19-49
Location - 4 Walker Road, Ward 3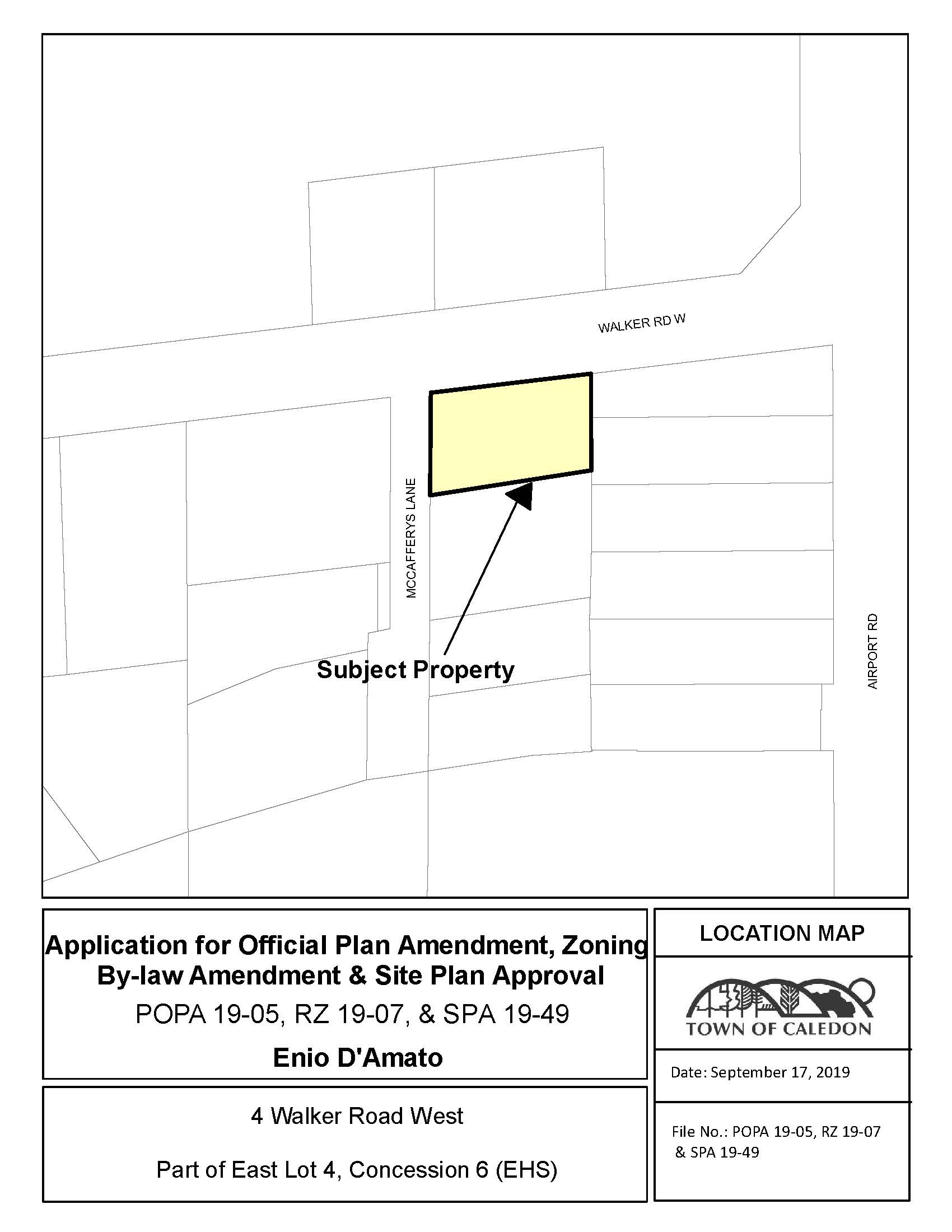 Official Plan Amendment
The Official Plan Amendment proposes to amend the Official Plan to permit an increase to the density to allow two residential lots.
Zoning By-law Amendment
The Zoning By-law Amendment proposes to amend the zoning of the property from from Rural Residential – Oak Ridges Moraine (RR-ORM) to Residential one Exception 651 – Oak Ridges Moraine (R1-651-ORM) to permit reduced lot area, reduced setbacks and to increase the building area, in order to permit two new residential dwellings.
Updates and notices
Notices
Notice of Application - Posted on September 26, 2019
Notice of Public Meeting - Posted on October 24, 2019
Material Submitted
Contact us, or make an appointment to visit Town Hall to view studies not available online, or previous versions.
Lead Planner
Adam Wendland, MCIP, RPP
Senior Planner
Development and Design
905-584-2272 ext. 4024
Adam.wendland@caledon.ca
Additional Resources
For more information about this matter, or to provide comments, feedback or ask questions, please contact the Lead Planner at Town Hall from Monday to Friday, 8:30 a.m. to 4:30 p.m.