1402 Queen Street West
The Town has received a proposed Zoning By-law Amendment (Lifting of 'H') applications.
Current Status
A staff report for this application has been referred back to staff for more information.
Property Description
The subject lands are located at 1402 Queen Street West in Alton, located on the north side of Queen Street West, west of Amelia Street, and east of Credit Street.
Town File Number(s): RZ 2021-0016
Project Name: The Alton Development Inc
Location: 1402 Queen Street West, Ward 1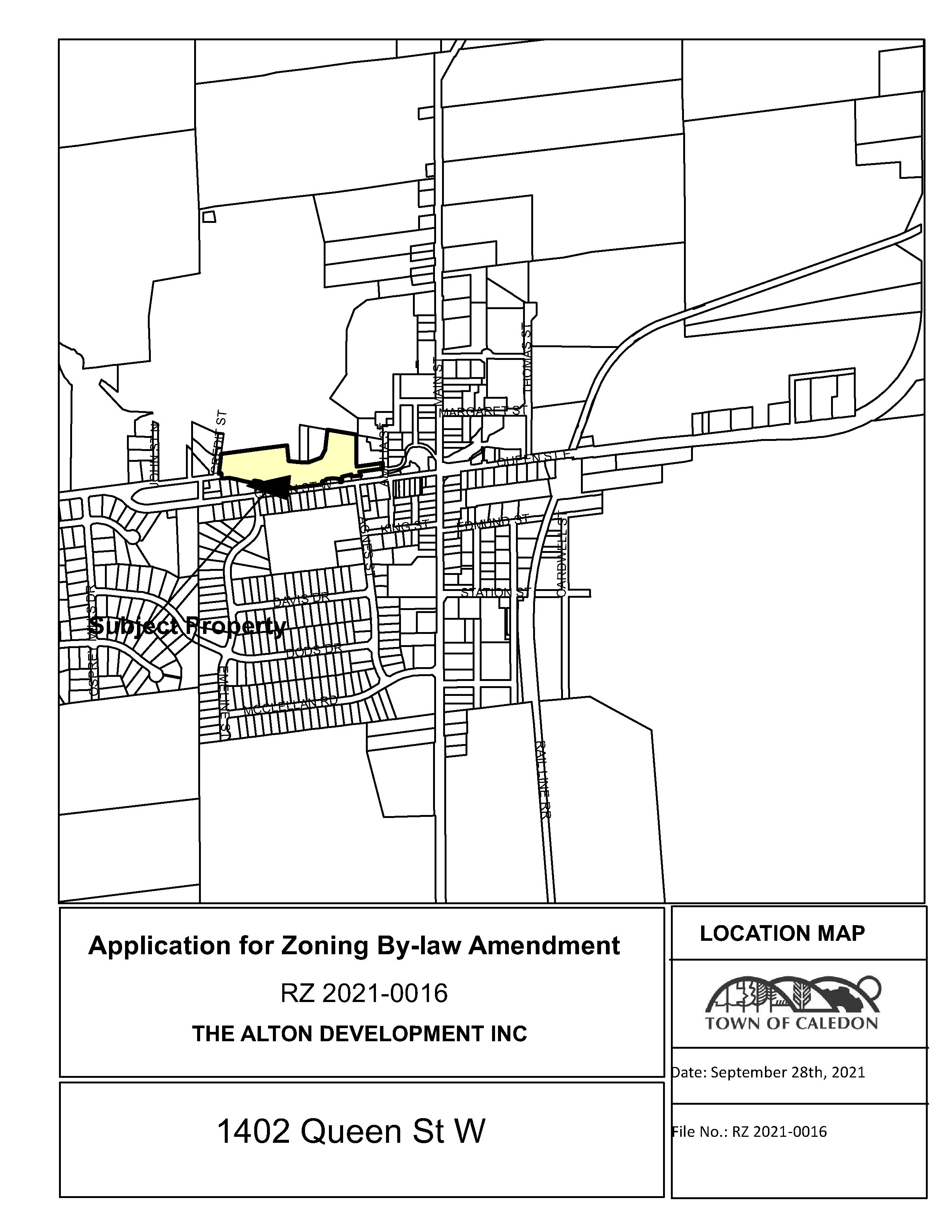 Zoning By-law Amendment
The Zoning By-law Amendment proposes to amend the zoning of the property to remove a Holding 'H' symbol (H and H10) restriction from a portion of the property zoned Village Commercial Exception 461 – Holding Provision 10 (CV-461-H10) by Zoning By-law 2006-50, as amended, and Village Commercial – Special 35 – Floodplain – Holding (CV-35-F-H) by Zoning By-law 87-250.
Updates and notices
Notices
Material Submitted
Zoning By-law Amendment Application Form
Holding Symbol Removal Information Matrix
Contact us, or make an appointment to visit Town Hall to view studies not available online, or previous versions.
Lead Planner
Adam Wendland, MCIP, RPP, Community Planner
Development and Design
905-584-2272 ext. 4024
Adam.wendland@caledon.ca
Additional Resources
For more information about this matter, or to provide comments, feedback or ask questions, please contact the Lead Planner at Town Hall from Monday to Friday, 8:30 a.m. to 4:30 p.m.