0 Atchison Drive
The Town of Caledon received Official Plan Amendment, Zoning By-law Amendment and Site Plan applications for 0 Atchison Drive, Caledon East.
Property Description
The subject lands are located in the central portion of Caledon East, north of Old Church Road on the east side of Atchison Drive, across from Town Hall.
Town File No.: POPA 18-01, RZ 18-03 & SPA 18-06
Project Name: Pluribus Corp.
Location: 0 Atchison Drive, Ward 3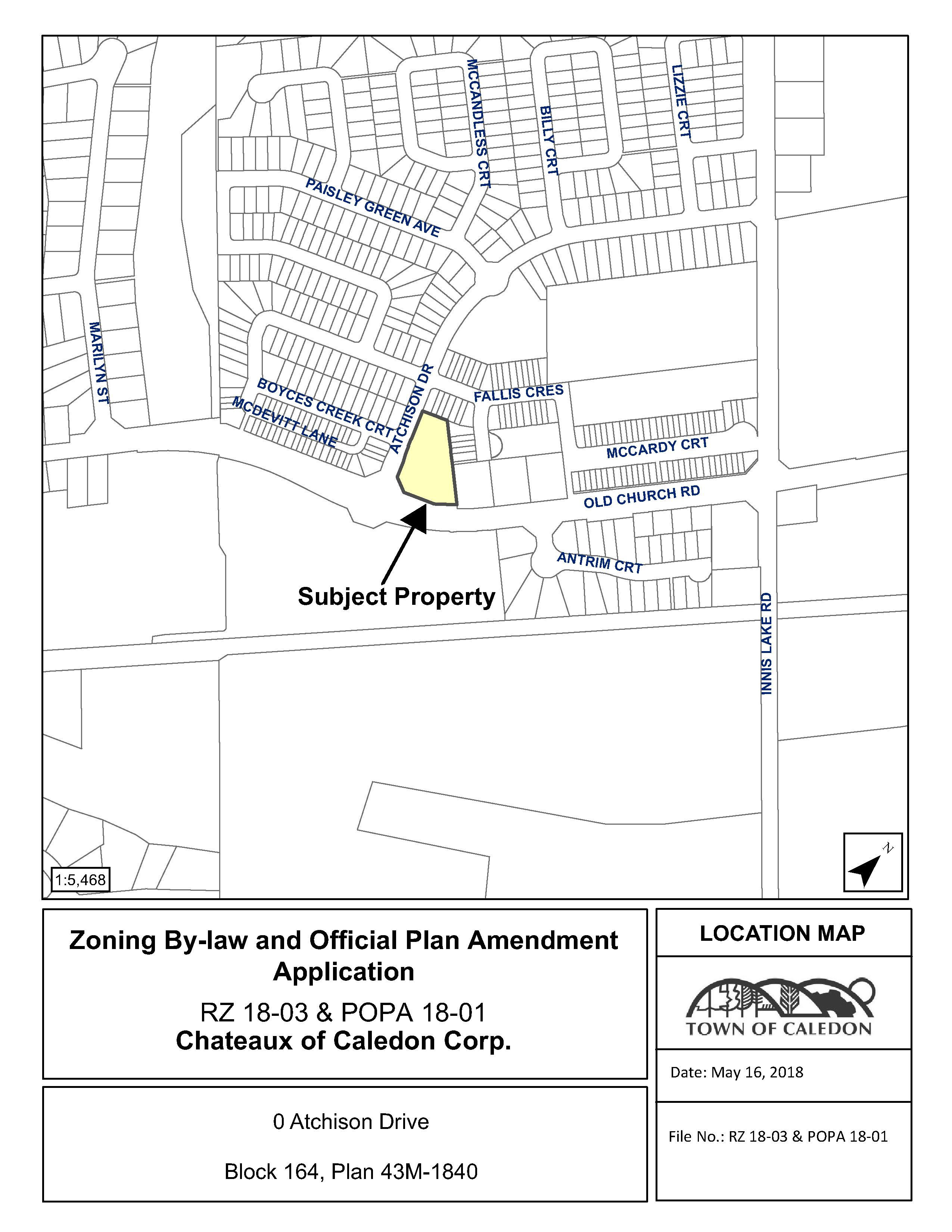 Official Plan Amendment
The Official Plan Amendment (Draft) amends the existing Special Use Area C (Community Focus Area) designation to permit a building height of 5 storeys and 87 residential units.
Zoning By-law Amendment
The Zoning By-law Amendment (Draft) rezones the lands from a Village Commercial Exception 507 Zone (CV-507) to a new Village Commercial Exception Zone (CV-XXX) to allow for:
increased building height;
dwelling units (including ground floor units);
non-residential gross floor area and permit reduced building and parking space setbacks;
planting strip width; and
parking spaces.
The application also proposes to rezone the Open Space Exception 505 Zone (OS-505) to a new Open Space Exception Zone (OS-XXX) to permit a private park and accessory outside display, sales or patio areas associated with the commercial uses in the proposed CV-XXX Zone.
Updates and notices
Notices
Material submitted
For studies that are not available online, you may view the documents at Town Hall by appointment, in the Planning and Development Services Division.
Lead Planner
Stephanie McVittie, Acting Manager, Development Review Services
905.584.2272 x. 4253
stephanie.mcvittie@caledon.ca
Additional information
For more information about this matter, or to provide comments, feedback or ask questions, please contact the Lead Planner at Town Hall from Monday to Friday, 8:30 a.m. to 4:30 p.m.