Town of Caledon acts to protect most vulnerable from COVID-19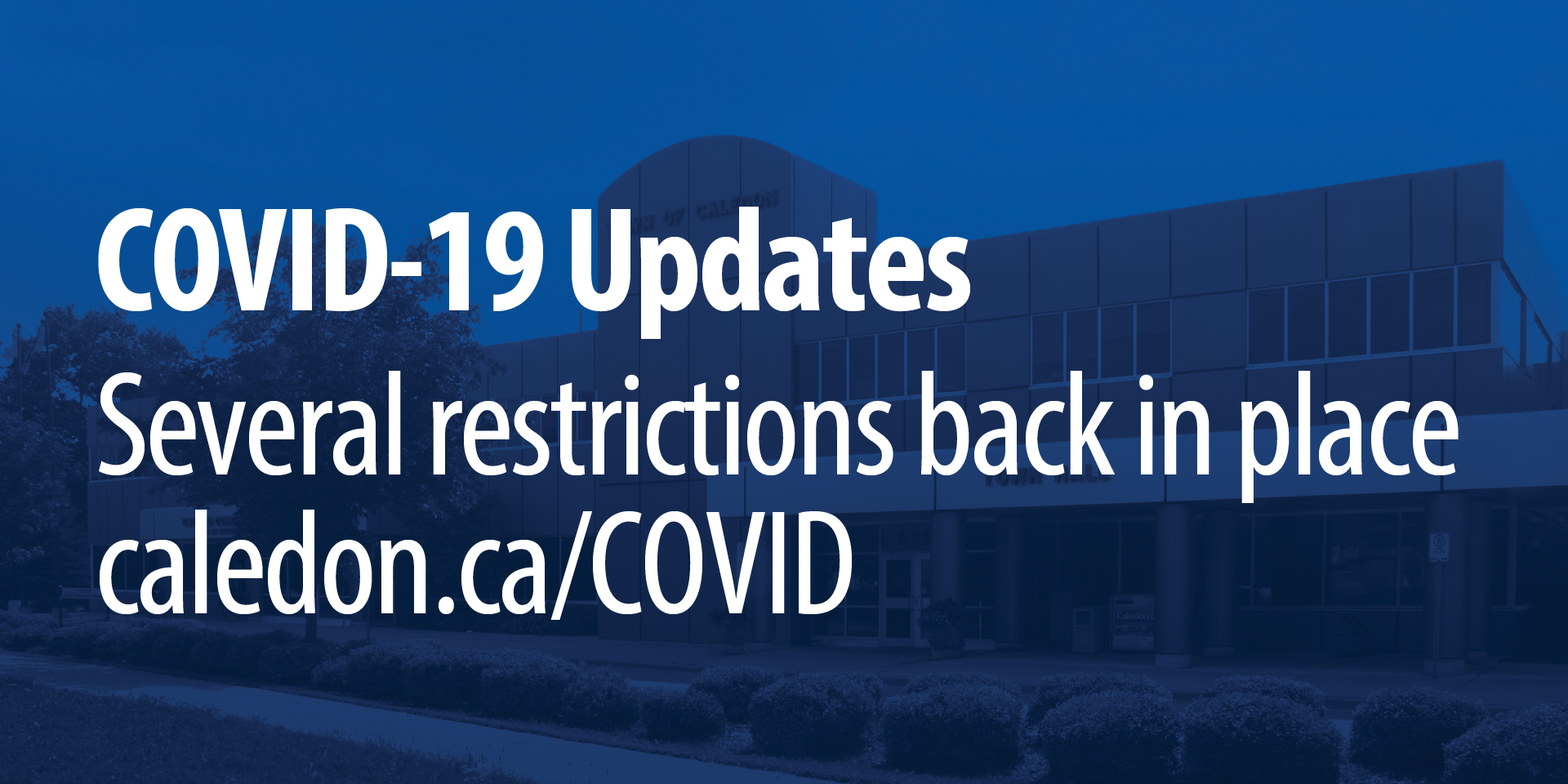 (October 9, 2020) -- In response to today's announcement from the Province of Ontario that Peel Region is scaling back to a modified Stage 2 for the next 28 days, the Town of Caledon is taking action to implement the necessary health and safety measures to protect its most vulnerable citizens and contain the spread of COVID-19.
"No doubt this is a tough call, particularly given the tremendous progress we've made in recent weeks here in Caledon," said Mayor Allan Thompson. "We need to go by the science and we need to protect the most vulnerable among us, so I ask the citizens of Caledon to continue to support one another: limit trips to essential purposes, wear a mask, physically distance, wash your hands and stay home if you are not feeling well. Together we can prevent something much worse. We can still enjoy Thanksgiving, but let's do so responsibly."
Today's announcement from the Province of Ontario does not affect schools but it does introduce restrictions for restaurants (no indoor dining) and other areas. It also has implications for Town of Caledon recreation programs and services, as follows:
Fitness centres are closed and fitness classes cancelled, refunds will be issued for pre-booked activities and impacted memberships will be put on hold.
Program capacities will be adjusted where needed. General interest, skating and pool programs will remain open and available.
All affiliated hockey, figure skating and swim clubs will be limited to 10 individuals entering Town facilities. This number includes coaches and trainers.
Room rentals will be limited to 10 individuals.
All outdoor bookings (e.g. sports groups) will be limited to 25 individuals.
For information about local parks and trails please visit:
More information
For more information about programs, services or hours of operation, visit caledon.ca/coronavirus, call Service Caledon at 905-584-2272 x. 7750 or email info@caledon.ca.
Social media
Follow @Your Caledon on Twitter, Facebook or Instagram.
Newsletter
Questions?
Write to us: covid@caledon.ca.
- 30 –