Profile: Garden Foods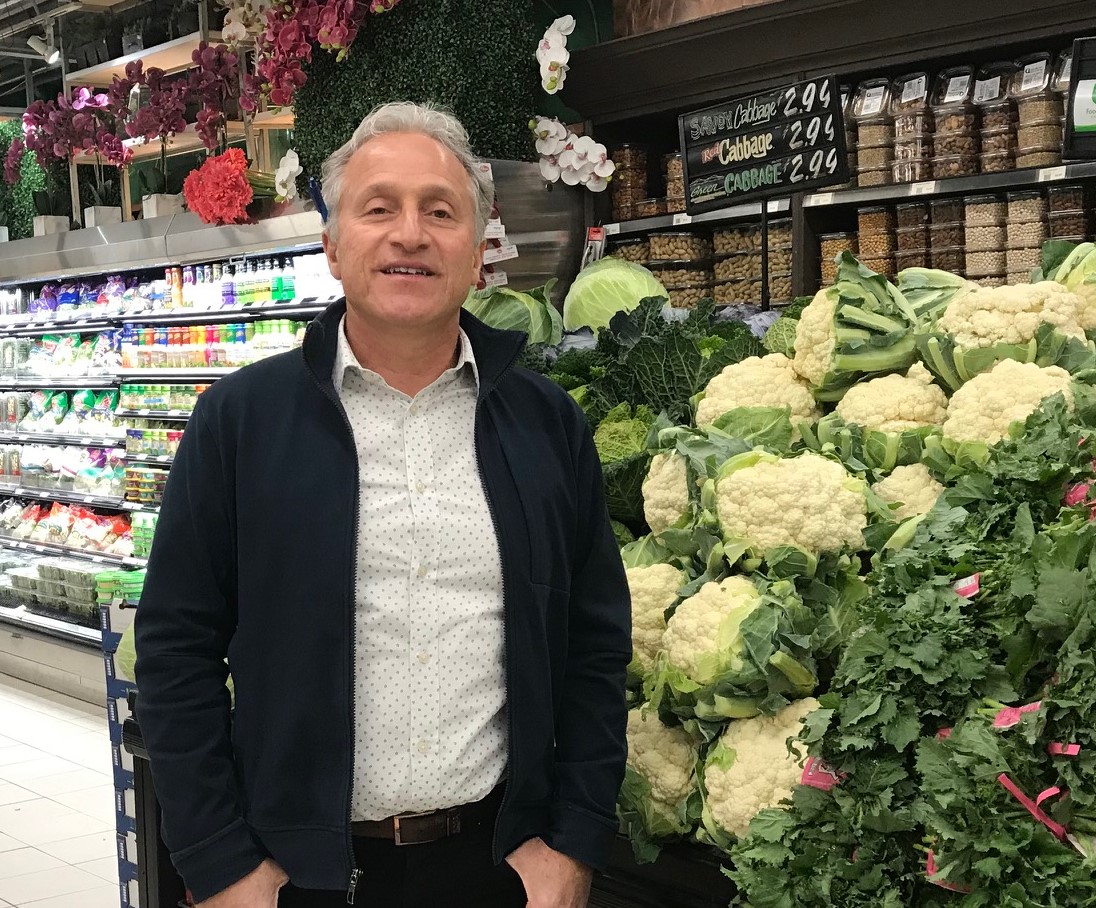 To Piero Carbone, owner of Garden Foods, it's all about eating fresh for better health, it's how he and his family live; it's the basis for business decisions. We sat down with Piero to talk about family, business, and community.
Tell us about the business.
Garden Foods is a full-service grocery store, with a garden centre which runs from May to December. We're all about eating fresh for better health, it's our motto. It's about bringing a better quality of food to people, so they can have a better life. We cater to foodies who care about the quality of product and where their food comes from – they care about what they eat and what they are bringing home to their families.
This is a highly competitive business, so what makes us different from the rest is those little things we do – we go the distance! We like to cater to people's needs.
We have someone that goes to the market every morning to pick and select the right foods/vegetables -we have our own truck that brings it to the store. Every day he's there by 5:30 a.m. to get the best selection – we really strive to have Ontario produce in our store, and we can taste things at the market to ensure we are getting quality, fresh produce - a lot of our customers appreciate that.
We have four suppliers of meats that are all antibiotic/hormone free – its important, it's better for you. When you eat something without hormones and that other stuff you digest it better and you feel good – that's what you want to feed your family.
That's what our focus is… eating fresh for better health. Our deli has less sodium and in our bakery our goods have less sugar.
In our prepared food, we make sure that anything we make is done in the highest grade and always fresh. We make everything fresh – our staff get here at 6:00 a.m. and by 10:00 or 11:00 prepared foods come upstairs – it's made every day.
When did it all start? Give us the history behind Garden Foods.
My dad came to Canada from Italy when he was 17 years old, he wasn't married then, but he said he always knew he was going to marry my mother. My mother followed him here about two years later.
He always wanted to be in the food business.
He worked construction when he first arrived and worked for Dominion grocery stores for 20 years then opened his first store in Toronto in 1972 with four partners. From there he wanted to expand and because we lived in Caledon he thought Bolton was where he wanted to open a store – he felt comfortable here, safe, he didn't want to commute to Toronto.
He started this business in 1981. At the time there was nothing around us. I think we had more cattle around us than people [laughing] – it was a small town then.
My dad felt strongly that Bolton was the place to be. Over the years we have been accepted by the people and grown with the Town.
My father used to bring me to the market when I was 10 or 11 years old – he'd get me up really early, I didn't like it. Of course, I had to work there after school.
I was very athletic as a kid – hockey and soccer -- and I didn't like that working on weekends and after school interfered with other things I wanted to be doing.
I stayed in school as long as I could, I think I was just avoiding having to work here – I didn't have the passion for the food business right away.
I was in accounting/finance at Ryerson with a minor in retail management and took a special course in entrepreneurship… I guess I knew that one day I might end up here.
In 1992, my father had a terrible accident, that's when my life changed. I lived in Bolton, I was married, I got into the business knowing that I was helping my dad and family. But, I found the passion.
In 1996, we expanded the store by 7,000 sq ft with a full basement. In 2008, we bought out the property beside us and added another 8,000 sq ft.
Recently we did a renovation, replacing the roof and sign which look great and was supported by the Town's incentive program. The store looks great, that's important too – great product, good customer service and an attractive building - it attracts the right customers.
Now we're 18,000 sq ft. My dad started with 12 employees, we now have 140 employees.
How did you feel when Zehrs moved in?
Well, I actually left town for a week! [laughing] We were scared and didn't like that they would be right beside us and sharing parking – but it has turned out great for us and them too I think.
It makes us a hub. People come here for certain local fresh things and then they'll go to Zehrs for other grocery items.
We're small so we have to be different.
We're more hands on. Our thing is we touch everything.
We package our own nuts, we bring produce fresh from the market, we handle it and prepare it the way other stores can't. We cut our own corn here, we cut our own pineapple here, the way we put our strawberries together. We put a lot of care and attention into everything we do.
And you can still have competitive pricing doing that?
A lot of people think we are more expensive because we're smaller. But if you get 10 items from our fresh department – like produce, meat, deli or even our bakery – we will be cheaper by 4 or 5%... stuff like cleaning supplies we may not be as competitive – but on the fresh side we are very competitive.
Any concerns about another grocery store coming?
Not really. There's always three or four months where customers may go because they are curious, but discount stores or large chains don't offer the same service or product that we do. We'll survive.
What do you find most challenging?
I think for us the most challenging is labour. I'm sure that's not a surprise.
Something like our butcher – they don't even teach that skill any more – for some reason our colleges don't teach it and it's something that's vital for our business. And good chefs for our prepared food department.
Thank goodness we have a great reputation, that helps us – people want to work for good businesses.
We hire a lot of students – we like to hire them in high school, they work here for a couple years then go off to university and come back over the summer which is great because they are trained, it's very valuable for us.
We actually have a scholarship fund, we like to support our young employees that way.
How else do you support the community?
We help schools and local sports teams. But we have been heavily involved with Caledon Community Services for a lot of years.
We always give back, it comes back to us tenfold – it's so important to support your community.
What is the best business advice you could give or have ever gotten?
The best advice I could give – being disciplined – don't sway what you are about and what you want to achieve. So many businesses want to be all things to all people, and it doesn't work. You have to be true to yourself and your mission.
Focus, have five-year plans try to achieve those things, accomplish them and move on. Always try to make your business better.
Change with the times but focus on what you do.
Be the leader, set the mantra and everybody follows it.
I came up with eat fresh for better health, it's a trend but I'm a boomer too, so we [the family] focus on it personally.
We all want to live longer and feel young, it's all about what you eat. I set the mantra and the staff follows it. It's the lens that we see everything through and helps us to make decisions.
How long did it take you to be disciplined like that?
My father was a very strong-minded person. He had good business smarts. And once I found the passion for this business I think I inherited the discipline and business sense.
Do you see yourself retiring?
No, I don't think I want to retire. I'm having fun now. I have great people around me, I enjoy the work.
If you could do anything else what would it be?
I always thought I'd like to be involved in sports somehow. I had such a passion for it when I was younger and still love it. So, coaching or management of a team.
I learned a lot from being involved in sports – sometimes you're not chosen to be the leader, but you become a leader, and that happened for me through sport, for some reason I'd end up being the captain of the team.
This is just an extension of that.
This is what I'm supposed to be doing. Even though I hated it when I was 18 or 19 I don't think I would do anything different.
I have a great team. We're successful because of the people I have around me.
It's been an amazing journey.