Profile: Benson Steel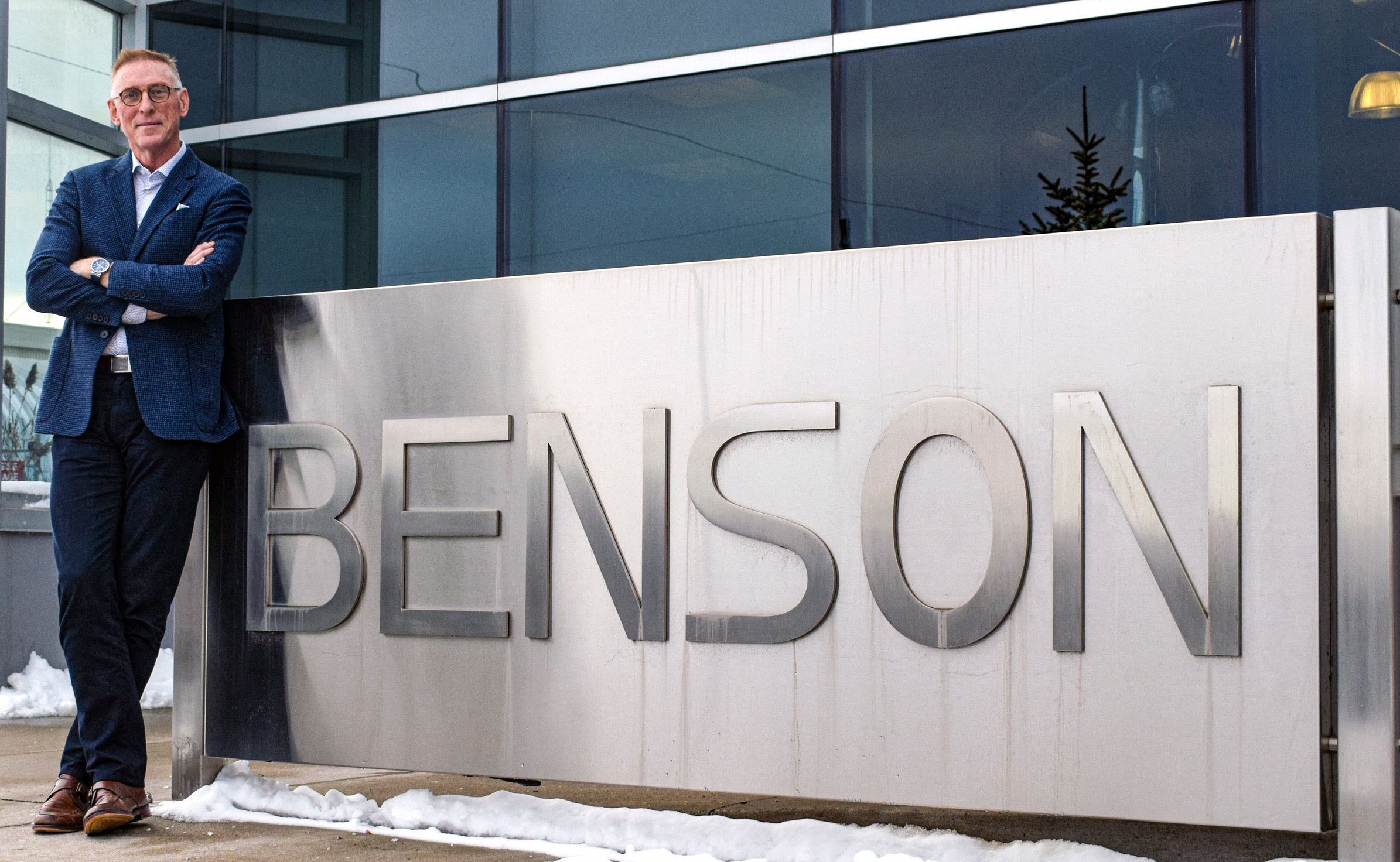 Recently we sat down with Stephen Benson, President and CEO of Benson Steel, to talk about family, business and where they go from here.
Tell us about the business.
Benson Steel is a fabricator of structural steel for heavy structures like hospitals, arenas, airports. We also do miscellaneous metals and metal deck and we've just moved into supplying timber and glass as a complementary item to our clients on specific projects.
Typically, the owner would hire their own consultant team, however there are times that we work to create value engineering alternates for the engineering consulting team to review due to our vast construction experience and the ability to find better ways to build.
We have done design on occasion but prefer to assist the owner's consultants.
Give us a little history, when was Benson Steel established?
I'm actually the third generation in the steel business. The family has been in the steel business for a long time but hadn't had their own company.
In 1979 my mom and dad decided they could service the business better by having their own goals and standards in place, they wanted to start their own steel fabrication company. Benson Steel opened on September 4, 1980.
My uncle Paul Benson joined the team and was with the team until 1995 as we grew. My cousin Bob, our Vice President Construction, has been with us since day one, over 39 years. Bob is a great asset to Benson.
We have been very fortunate to have great team members. We've had great hires that have stayed with us for many years.
We have a real family foundation, but we are not a mom and pop shop. Our buyers are sophisticated: PCL, Aecon, Oxford, Cadillac Fairview, airports around the world etc – they need to be confident that they are working with a viable construction company.
Our philosophy has always been on partnering, understanding our clients and their goals, knowing that if we don't supply a solution to meet their needs someone else will.
We're very proud to be entering out 40th year in business, it's a great success story, one we are proud to share.
What about you, have you always worked in the family business?
I worked with my dad at a different steel company until I was 19. As he started Benson Steel I came on for a year to get estimating up and running because that's what I was doing with the other company. After one year it was agreed I would head back to school, I wasn't sure where life would take me, but I knew education was the best path to success.
I liked the business, but I wanted other opportunities, so I earned a degree in economics and kinesiology. Then I came back in, I fell in love with it, it's fun to build things.
I've worked in the plant, estimating, project management and finance, so really, I worked my way up the corporate ladder, as it should be. I became Vice President, then Executive Vice President, then in 2006 became President and CEO.
When I became President, we took a different path in how we wanted to grow and present ourselves, a more collaborative effort in what has historically been an adversarial business world. It's been very well received. We've had great support from our clients, and all our stakeholders.
Regardless of the age difference, my parents and I see the world through the same lens.
In fact, my dad was the proponent of technology more than I was at one point. The fact is he is the more entrepreneurial of the two of us – he is: create an idea, strike, build and I'm: you build it and I'll grow it. It has been a great balance for a successful partnership.
Did your parents build this building?
No. We bought this 3-acre property with the original 12,000 sq ft plant on it. Today we are 55,000 sq ft of plant and office housing over $10 million in state of the art CNC fabrication equipment.
In those early days we were considered (way) south of the village of Bolton. There was nothing around us but the Goodfellow farm, one company beside us and vacant land. At the time we thought that we would never ever have a need for more land, now I wish we had double the lands.
Congratulations on your growth and the beautiful addition to the building.
Thank you. The budget grew substantially as we developed the office structure, but we wanted to make sure that the community knew we were investing here and we're here for the future.
Where do you do the majority of your business?
Majority of our product is in Ontario, but in some years, it changes. We've worked in Bermuda, Grand Cayman, we've had clients in Switzerland, Turkmenistan and we're bidding on work in the British Virgin Isles.
We do the risk analysis of the project and region, if it looks like it should work, we'll go there. It's usually led by a Canadian client on our side of the table, so the risk is less than if we were on our own in those places.
We do all the fabrication here in Bolton and ship it where it needs to be via land, sea and at times air.
What percentage of your business is outside of Canada?
Historically I'd say it's 5 to 7 percent, but we have had anomalies like two years ago we were 89% overseas work. We had a couple of big airports that were taking up the majority of that timespan. We were careful to manage our existing clients in Ontario to ensure they didn't think we were abandoning the market.
We have just moved into the U.S. market so the 5 to 7 percent may grow to 10 to 12 percent. There is risk going into a new market, but we are cautious and go slow and steady.
How do you decide what jobs you'll bid on or take overseas?
I personally visit every site overseas before we take a job to ensure that it is going to be acceptable food, accommodation, and lifestyle for our staff.
We had one circumstance where we had an opportunity to do an airport overseas but they had just reported 60 cases of the plague, so we said no to the job – we would never have our staff in harm's way.
I go to meet the people and understand the culture. Having that understanding makes a difference for the success of the project.
Is all of the work specialized or can you hire local workers?
Wherever we go we try to have some portion of our scope engaging with local people. Sometimes we're highly successful sometimes we're not. It depends what is available.
We try to train people so that when we leave we have left a skill set behind, but it depends on the asset base. On the new Bermuda Airport project 22% of our contract value was left on the island due to engaging local suppliers.
We've won bids because of our percentage of local content – that's what most governments want. Especially in the Caribbean where these large projects don't come along very often, they want to benefit economically as well as socially.
And the Team here in Canada – how many people do you employ and what is the skill set required in your business?
We float between 47 and 52 staff. Ten years ago it would have been about 32. That's just the office and the plant.
We probably employ another 100 outside of Benson on contractual basis for drafting, some engineering, and field expertise.
In the plant it's trade based, there's different college programs we would draw from – fitter, welder, CNC operator – but the most important thing is attitude. If I meet someone with no education but a great attitude, I will hire them – give them a chance, absolutely. That goes for both sides of the wall, in the plant and the office.
That being said, CNC background is important now and in the future. We are working towards full automation.
I'm going to Europe in early January to look at a new robotics system which we're hoping to have in place by June 2020. It will be the first true robotics we'll have and will allow us to grow within our limited space.
Robotics is a great solution to grow output, it's great for our health and safety program too – robots don't get injured. It won't eliminate any people from my work force, in fact we forecast to add 2 new team members as new types of jobs will be created.
Over the last 10 years we've maintained our number of staff but have doubled our output due to technology, it is definitely the way of the future.
How does the company fair through recessions?
We've gone through three major recessions. We've been fortunate. We were prepared and have been able to grow negatively with forethought.
During the last recession the timing worked out for us, we had six people retiring so we didn't rehire for about two years but when things were improving we ramped back up.
The other part of our success through the recessions is working in the international market – if the Ontario market is soft maybe another region is not. So, the reality is we have been busy for 20 years, not one person has been laid off.
What are your greatest challenges?
Our greatest challenge is human resources, finding the team members that we need. I'm hoping there will be some significant residential development in Bolton, we need a growing population base to draw from.
Technology is a challenge because it is changing so quickly, it can be a major disrupter, but as noted earlier it is the way of the future.
People of my generation need to keep up with the learning curve, it's important to understand that there has been a shift and how we'll deal with the technology we didn't grow up with. Continuing education is huge, I personally go on 2-3 courses each year to try to stay up with the times.
If you could be doing anything else what would it be?
For work, nothing, I truly love what I do for a living. But, I have a lot of hobbies, I play guitar, I'm currently learning the drums, I love outdoor life, hiking, and golf, we love to cottage as a family, I'm a big tri-athlete – I recently did an Iron Man competition and signed up for two more in 2020, triathlon has been a huge part of my life for over 33 years.
There's lots of stuff I could be doing if I wasn't working, but I need to be on the go. We are expanding into new markets, it's a very exciting time for us.
My goal is by the time I'm 65 to be in the office 4 days/week – but I'd still be working 40 to 50 hours a week anyway, maybe more….I have a blessed life, I'm so fortunate, but then hard work usually leads to good or great things happening.