Notice of Passing By-law 2021-62 to Redivide Town of Caledon Ward Boundaries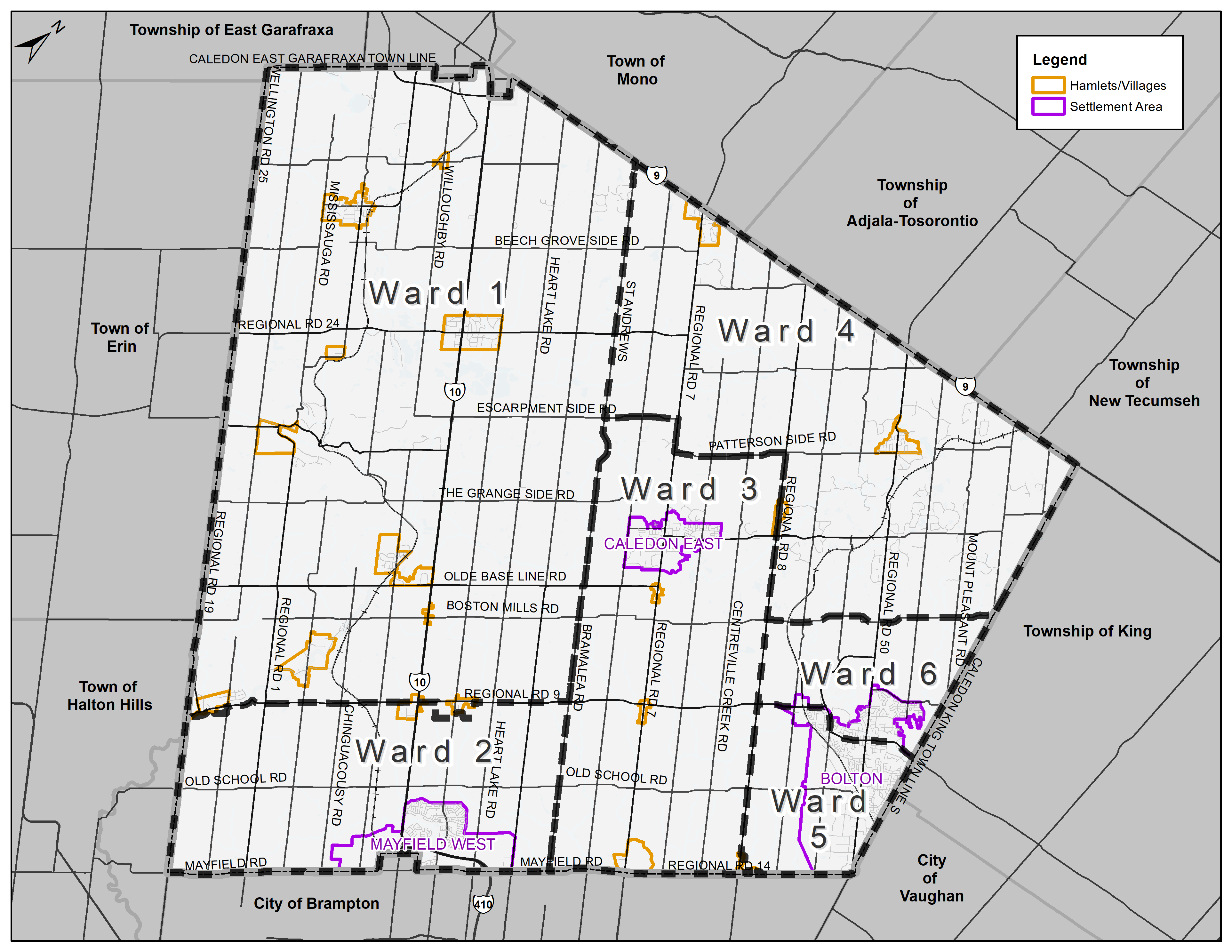 In preparation for the 2022 Municipal Election, over the past year the Town of Caledon reviewed its ward boundary structure to ensure it serves the community and provides effective representation.
At the July 13, 2021 Town Council Meeting, a By-law was passed to update the Town's ward structure for the first time in 27 years. The changes to the wards will come into place for the 2022 Municipal Election, subject to an appeal.
New Ward System
The new structure will include six wards with one Local Councillor representing each. This prepares for urban population growth while also considering Caledon's rural heritage and communities of interest. The two Regional Councillors who represent the Town on Regional Council will be elected in combinations of wards. One Councillor will be elected to represent wards 1, 2 and 3 and the other will be elected to represent wards 4, 5 and 6. Including the Mayor, Caledon's Council will remain at its current size of 9 Members.
Formal Notice and Appeal Process
NOTICE IS HEREBY GIVEN on this 22 day of July, 2021, in accordance with Section 222 (3) of the Municipal Act, 2001, S.O. 2001, c. 25, that on July 13, 2021 the Council of the Town of Caledon enacted By-law 2021-62 to redivide the wards of the municipality.
TAKE NOTICE that pursuant to Section 222 (4) of the Municipal Act, 2001, S.O. 2001, c. 25, any person or agency may make an appeal in respect of the By-law to the Ontario Land Tribunal by filing a notice of appeal with the Town of Caledon setting out the objections to the By-law and the reasons in support of the objections. A notice of appeal must be filed within 45 days after the By-law to redivide the wards was passed. The final day to file a notice of appeal is Monday, August 30, 2021.
A notice of appeal may be filed with the Director, Corporate Services / Town Clerk by mail or in person at Town Hall located at 6311 Old Church Road, Caledon, ON L7C 1J6. Please include a certified cheque or money order made payable to the Minister of Finance in the amount of $1,100.00 when submitting a notice of appeal.
Please note that the right to appeal only applies to the ward structure and not the composition or method of selection for Local or Regional Councillors.
Contact
For more information please contact Legislative Services by phone at 905-584-2272 x. 2366 or by email to legislative.services@caledon.ca. Background information on the Ward Boundary Review is available at caledon.ca/wbr.