Notice of Completion - Kennedy Road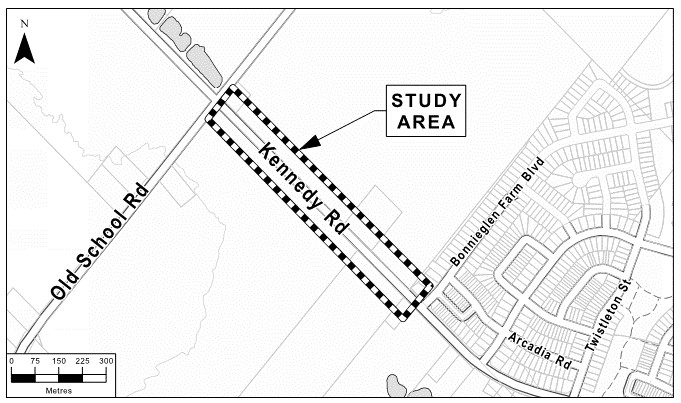 Kennedy Road from Bonnieglen Farm Boulevard to Old School Road
The Town of Caledon is planning for improvements to Kennedy Road from Bonnieglen Farm Boulevard to Old School Road to address growth related demands on Town infrastructure. A Municipal Class Environmental Assessment (EA) was completed in April 2019 to evaluate improvements for this section of Kennedy Road that support future land uses and enhance road safety for all road users. The preferred alternative identified in the EA for Kennedy Road improvements included a two-lane road with curb and gutter (Urban Reconstruction) and paved shoulders to be shared by both cyclists and pedestrians. The existing sidewalk in front of Tony Pontes Public School was to be retained but not extended to Old School Road.
A minor adjustment to the preferred alternative identified in the EA includes a change from shared on-road paved shoulders for cycling and pedestrians to a continuous 3.0 m wide off-road paved multi-use trail on the west side of Kennedy Road constructed within the limits of the existing right-of-way. The existing sidewalk in front of Tony Pontes Public School will remain. The pavement width of Kennedy Road will be reduced to exclude the paved shoulders and provide two wider 3.3 m traffic lanes with curb and gutter. The adjustment meets existing road standards and improves the safety of pedestrians and cyclists using the off-road facility, while supporting active transportation and accessibility along the corridor for a wider range of users.
To request additional information, or to provide comments or concerns about this project, please contact either of the following Project Team members by 4:30 pm, December 7, 2020:
Taylor Bliss, P.Eng.
Project Manager, Engineering Services
Town of Caledon
905.584.2272 x 4171 | taylor.bliss@caledon.ca
Vic Bohdanow, P. Eng.
Project Engineer
R. J. Burnside & Associates Limited
705.797.4278 vic.bohdanow@rjburnside.com
If there are outstanding concerns regarding potential adverse impacts to constitutionally protected Aboriginal and treaty rights, a request for an order requiring a higher level of study or conditions on those matters should be addressed in writing to the Minister of the Environment and the Director of the Environmental Assessment Branch. Requests should include the requester contact information and full name for the ministry. Other concerns regarding the project are to be directed to the Town for a response. The request should be sent by 4:30 pm, December 7, 2020 in writing or by email to:
Minister of the Environment, Conservation and Parks
Ministry of Environment, Conservation and Parks
777 Bay Street, 5th Floor Toronto ON M7A 2J3
minister.mecp@ontario.ca
Director, Environmental Assessment Branch
Ministry of Environment, Conservation and Parks
135 St. Clair Ave. W, 1st Floor Toronto ON, M4V 1P5
EABDirector@ontario.ca
Information will be collected in accordance with the Municipal Freedom of Information and Protection of Privacy Act. With the exception of personal information, all comments will become part of the public record. Project and notice information will be made accessible upon request in accordance with the Accessibility Standard for Information and Communication under the Accessibility for Ontarians with Disabilities Act, 2005.