Council Highlights (October 20, 2021)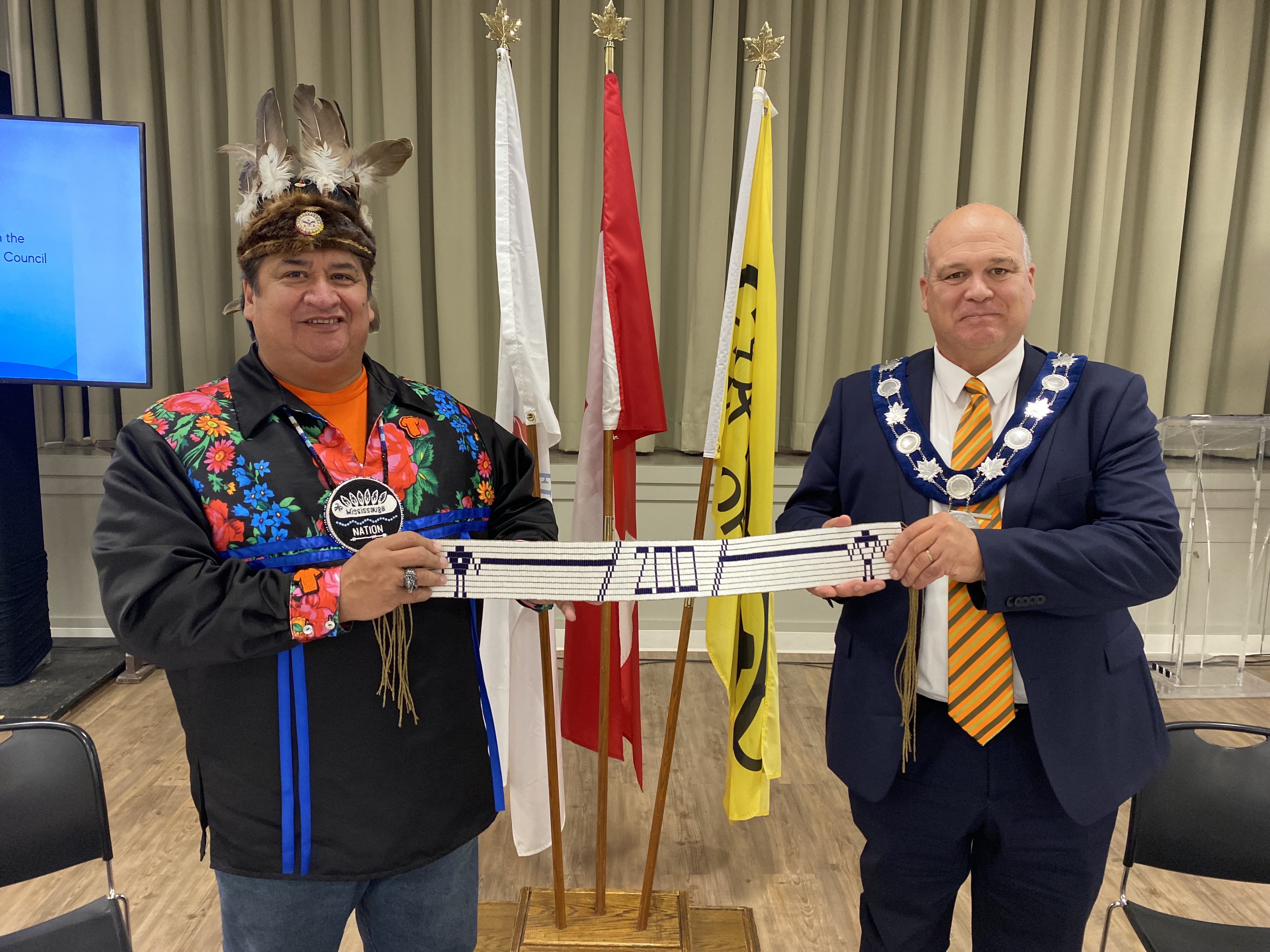 Council Highlights is a summary of major discussion items presented at Council meetings - circulated immediately following each meeting. You are encouraged to quote from and/or copy this information. Please refer to the minutes for an official record of the meeting.
Top photo: Chief Stacey Laforme and Mayor Allan Thompson with the Wampum Belt
Special Council to Council Meeting
October 20, 2021 -- Town of Caledon Council made history today by holding the first ever joint session of Council with the Mississaugas of the Credit First Nation.
This session was a continuation of a special relationship following a series of important milestones in municipal-First Nation government relations.
These include a specially commissioned Wampum Belt presented in 2018, as well as the raising of the Mississaugas of the Credit First Nation flag at Town Hall to mark National Truth and Reconciliation Day on September 30, 2021.
The meeting included a re-commitment of the Wampum Belt, a smudging ceremony and a conversation on how the parties can continue to work together as stewards of the Town, the land and its beautiful natural features.
About the Wampum Belt
In 2018 Mayor Allan Thompson presented a Wampum Belt to Mississaugas of the Credit First Nation Chief Stacey Laforme. The belt was commissioned by an Indigenous artist and is inspired by the 200th Anniversary of Ajetance Treaty 19, which encompasses the Town of Caledon, and includes other important symbols to illustrate the significant and historic meaning behind the presentation.
The Belt features seven white beads representing the benefit to the next seven generations. There are two figures on either side – one to represent indigenous and one non-indigenous. The distance of each line from each figure is equal to the diagonal line of a renewed friendship and alliance of 200 years.
Photo: Wampum Belt
Photo below: Councils of the Town of Caledon and the Mississaugas of the Credit First Nation