Caledon launches Community Recovery Plan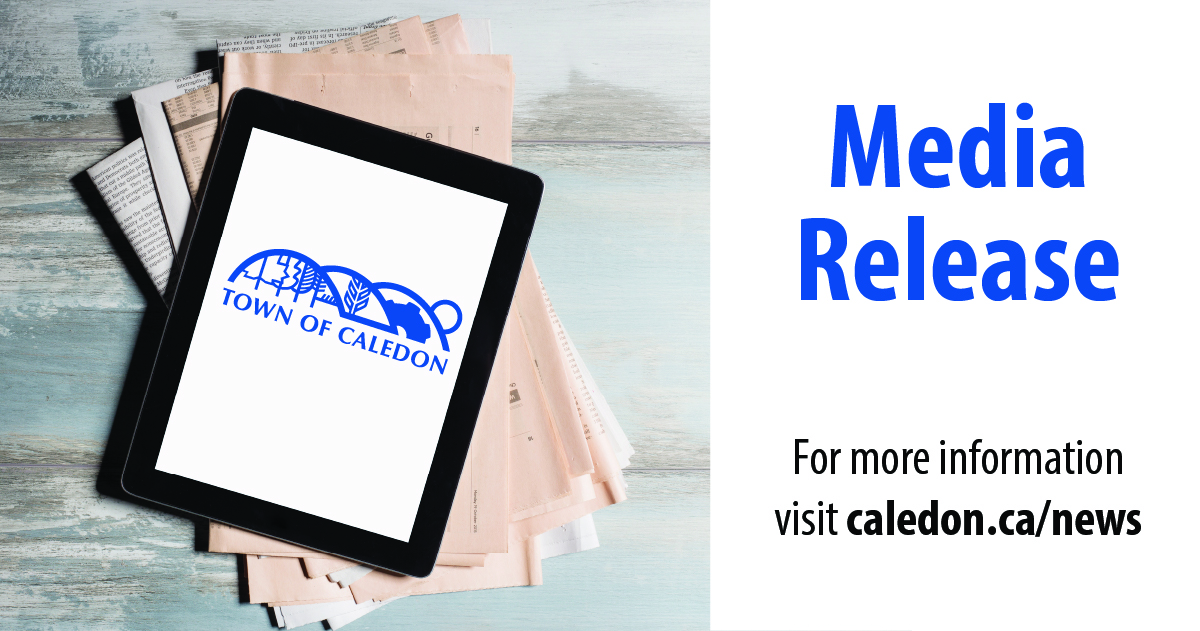 The Town of Caledon today launched a comprehensive plan to help the community recover from the devastating financial and social effects caused by the COVID-19 pandemic.
The Community Recovery Plan focuses on supporting business, empowering community organizations, combating isolation through increased connectedness and providing more access to information and services.
"We asked our businesses, not-for-profits and residents what needed to happen to make this community whole again, and we got a tremendous response," said Mayor Allan Thompson. "Nobody knows for sure what "the new normal" looks like yet, but this plan is a sign of how strong our community is, the faith we have in one another and the optimism we all share that things will get better."
Council approved a number of concrete actions as part of the Community Recovery Plan, with the understanding that additional initiatives may follow as circumstances evolve.
Expansion of the Municipal, Agricultural and Community Grant (MACG) Program
Increasing the MACG Program from $140,000 to $240,000 in 2021 to provide additional support to community organizations. Modifications will be made to the MACG application and evaluation to provide more flexibility for applicants to address COVID-19 specific community needs.
Reduction of Rental Rates for Recreation Facilities
Reducing affiliate rental fees for indoor town facilities (pools, arenas, etc.) by 50% from August 4, 2020 to April 12, 2021 to help decrease the financial impact on affiliate groups, which will ultimately benefit kids and parents using town facilities.
Beginning in September, online promotion of the Shop Local campaign will be further supported by newspaper and magazine advertisements as well as signage and banners on Caledon main streets. Opportunities will continue to be explored to build on the campaign and programming. Through promotion of local businesses, the Town strives to encourage putting money back into Caledon and the surrounding community, strengthening the local economy.
Expanded Caledon Public Library (CPL) Services
Resume Visiting Library Service (VLS)
Suspended since March 2020, the Caledon Public Library's VLS program had volunteers delivering books to homebound seniors. An expanded version of the program will be introduced to provide drop-off and pick-up library services to Caledon residents who are unable to visit their local library branch due to COVID-19 or other challenges.
The CPL will establish a referral program for vulnerable residents to access a connectivity kit. Each kit would include one hotspot and one laptop. Bridging the digital divide, the initiative will provide resources for vulnerable residents to stay connected. Program details to follow later in 2020.
Particularly during economic downturns demand for library services grows, but overdue fines can act as a barrier to library use. Those who cannot pay their fines, may discontinue their use of library materials. The Caledon Public Library Board proposes to eliminate overdue library fines for all residents and user groups (not including replacement of lost or damaged items).
Additional Town Actions
The COVID-19 Community Recovery Team, co-chaired by Mayor Thompson and Chief Administrative Officer Carey Herd, was approved by Town Council in May and met weekly to understand the challenges being experienced by the broader Caledon community as a result of the COVID-19 pandemic. Staff will continue to work with community partners and consult with community stakeholders as the COVID-19 pandemic evolves.
For more information, view Staff Report 2020-0268, COVID-19 Community Recovery Plan.
– 30 –
Media Contact:
Strategic Initiatives | Communications
905.584.2272 x.4108 | communications@caledon.ca