Caledon Defers Tax Payments in Response to COVID-19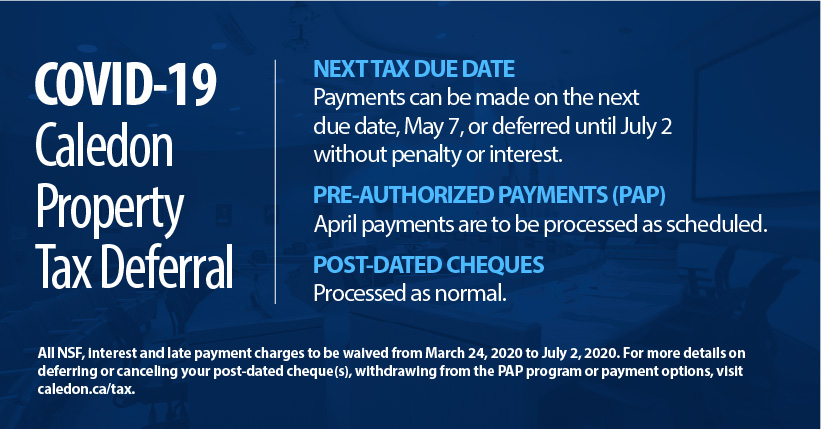 The Town of Caledon is deferring all remaining 2020 property tax payments by approximately two months for taxpayers who are experiencing financial hardship due to the COVID-19 pandemic.
"It's important that we do our best to help Caledon residents during this difficult time," said Mayor Allan Thompson. "Deferring tax payments is something that all of Council felt strongly about, and we hope that this will help lighten some of the stress that taxpayers might be feeling at this time."
Property Tax Deferral Changes
Property tax due date can be deferred from May 7 to July 2, 2020.
Post-dated cheques will be processed as normal unless directed otherwise, by the taxpayer, before April 15, 2020.
Pre-Authorized Payment program (PAP) - April payments will be processed as normal. Taxpayers on the PAP plan wishing to participate in the deferral program may withdraw from the PAP program by April 15, 2020.
All NSF, interest and late payment charges to be waived from March 24, 2020 to July 2, 2020.
Payment Options
While Town facilities are closed, you can provide your payment through your financial institutions/online banking, by credit card online, a drop box located outside of the main entrance at Town Hall, through mortgage companies, by mail, and through pre-authorized payment plans.
Contact
For general tax inquiries visit our frequently asked questions page. For all other inquiries, please call us at 905.584.2272 x. 7750, or send an email to Service Caledon.
For more details on deferring or cancelling your post-dated cheque(s), withdrawing from the PAP program or payment options, visit caledon.ca/tax.
- 30 –
Media Contact:
Strategic Initiatives | Communications
905.584.2272 | communications@caledon.ca