Business Opening: Caledon Roots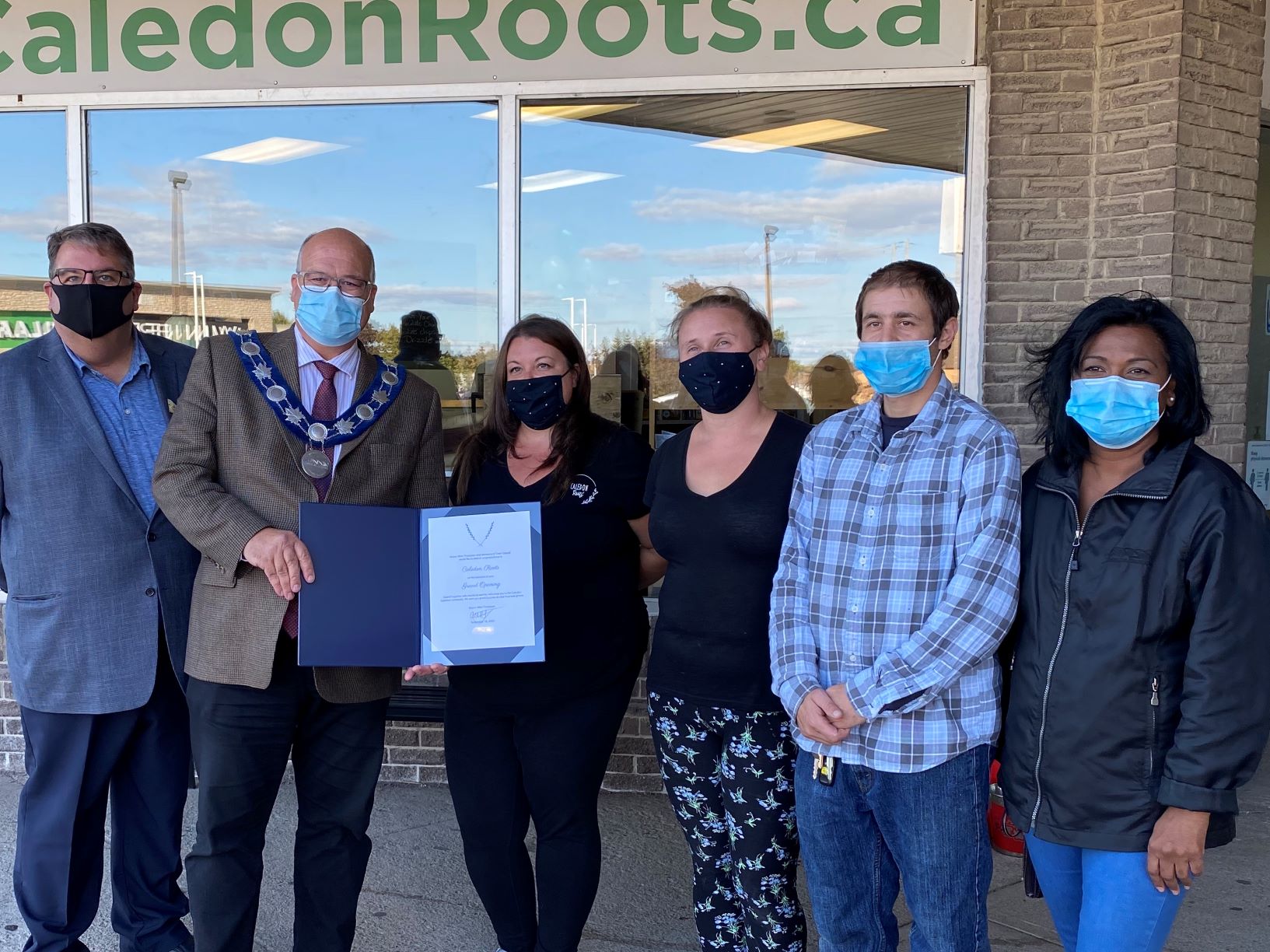 Caledon Roots opened just before the pandemic hit but finally has been able to celebrate with a grand opening event at their storefront. We asked co-owner Sarah Leslie about their business and how COVID-19 has affected them.
Tell us about your business.
Caledon Roots started out as a microgreens business, but we have slowly turned into a country market that now offers strictly Ontario made products including fresh pastas, homemade pies, baked goods, confectionaries and more.
We also scoop Ontario's favorite, Kawartha Ice Cream!
Tell us about you, why did you get into the business?
Caledon Roots is a family business owned by me, my brother Eric and my sister in law Natalie.
Natalie has a culinary background and noticed a need for microgreens, especially in banquet halls and restaurants, so we started Caledon Roots with the intention of becoming a supplier of micro greens to larger establishments.
We were successful and thought we should really offer these nutritious products to our community and so, we officially launched to the public in February 2020.
I, myself have a retail background, owning a retail store in the past.
Natalie has a culinary background and has come up with some pretty clever ideas for the business and Eric has been out making deliveries right from the start.
He can now be seen behind the counter serving customers while we all take turns making deliveries.
How has the COVID-19 pandemic affected your business?
Not two weeks after we launched to the public, the pandemic hit.
We quickly established an online ordering system to accommodate free home delivery to Bolton and surrounding areas and our business just spiked from there.
People are fearful to go into stores, and have been taking advantage of our free home delivery service which kept us quite busy through the roughest part of the pandemic. So much so, that we needed a larger indoor growing facility and we needed it fast to keep up with the demand.
Our current location at 15 Allan Drive became available but it has a retail space in the front and we weren't too sure what to do with it. That's how we came to the idea of scooping Kawartha ice cream.
There's a great covered outdoor space where people can sit and enjoy their ice cream and it's close enough that people from the neighborhood can easily walk or ride their bike to come and see us.
All of the other products just kind of fell into place.
We listened to our customers and what types of things they wanted to see and slowly, we're stocking all those items.
Why do you think this business will be successful in Caledon?
This pandemic has taught many people, including us, just how important it is to keep money in your local economy and appreciate the things you have right here where you live.
With that being said, Caledon Roots is proud to only stock products made in Ontario. We don't source anything from outside of our own province and we do that on purpose.
There are plenty of businesses here to sustain everything our community wants and needs, we have no reason to look elsewhere.
Everyone should shop local. We have a lot of their favourites and can save people a them from travelling outside of town.
You volunteer a lot of your time to support activities and events in Bolton, why is that important to you?
I was born and raised here in Bolton. I vividly remember what it was like growing up here and all of the fun things there were to do at any time of year.
Over the years, some of those events were cancelled and it just didn't feel right. That's not the Bolton I know.
It's important to me to have my own boys experience those things the same way I did. So, I'm happy to lend a hand whenever I can if it means keeping memories alive, but I couldn't do it without my amazing team, The Bolton Community Crew.
We are all like-minded people who want to keep the spark going here in Bolton. We have tons of fun planning events together but the best feeling for us is watching the hundreds, if not thousands of people attend our events with their families and enjoying themselves. Our next event will be our annual Christmas tree lighting ceremony so stay tuned for those details!
Caledon Roots is located at 15 Allan Drive, Unit 14 in Bolton | https://caledonroots.ca/