Arts, Culture and Heritage
In the Town of Caledon, we celebrate our cultural heritage landscapes, heritage conservation districts and heritage properties through a variety of conservation efforts.
Arts and culture
Caledon has a thriving arts and culture scene. Check out Visit Caledon to learn more about Caledon's vibrant and unique arts and culture experiences. Caledon Public Library's Artful Caledon is also home to local visual artists, musicians and writers of all ages, offering them both virtual and in-person space to showcase their work. Headwaters Arts is also a great resource that brings together artists and supporters to promote, develop, appreciate and enjoy all arts in the Hills of Headwaters Region (Caledon, Dufferin County, Orangeville and Erin).
Public Art Murals
"In Bloom" by Blaze Wiradharma
From the Artist:
The In Bloom mural showcases a breathtaking selection of Ontario's local flowers, thoughtfully curated to represent the region's rich and diverse flora. Accompanied by the vital pollinators of bees and butterflies, the artwork radiates a message of growth and transformation.
With a keen eye for detail and an expert hand, the mural artist has captured each flower at its peak, meticulously showcasing their natural beauty and colors. The flowers symbolize the resilience and beauty of life, thriving in a range of environments and conditions. By including bees and butterflies, the mural emphasizes the critical role that these pollinators play in our ecosystem, and the importance of preserving and protecting their habitats.
In Bloom represents a celebration of nature and the interconnectedness of all living things. It inspires us to appreciate the beauty of the world around us and to reflect on our role in nurturing and sustaining our environment for future generations.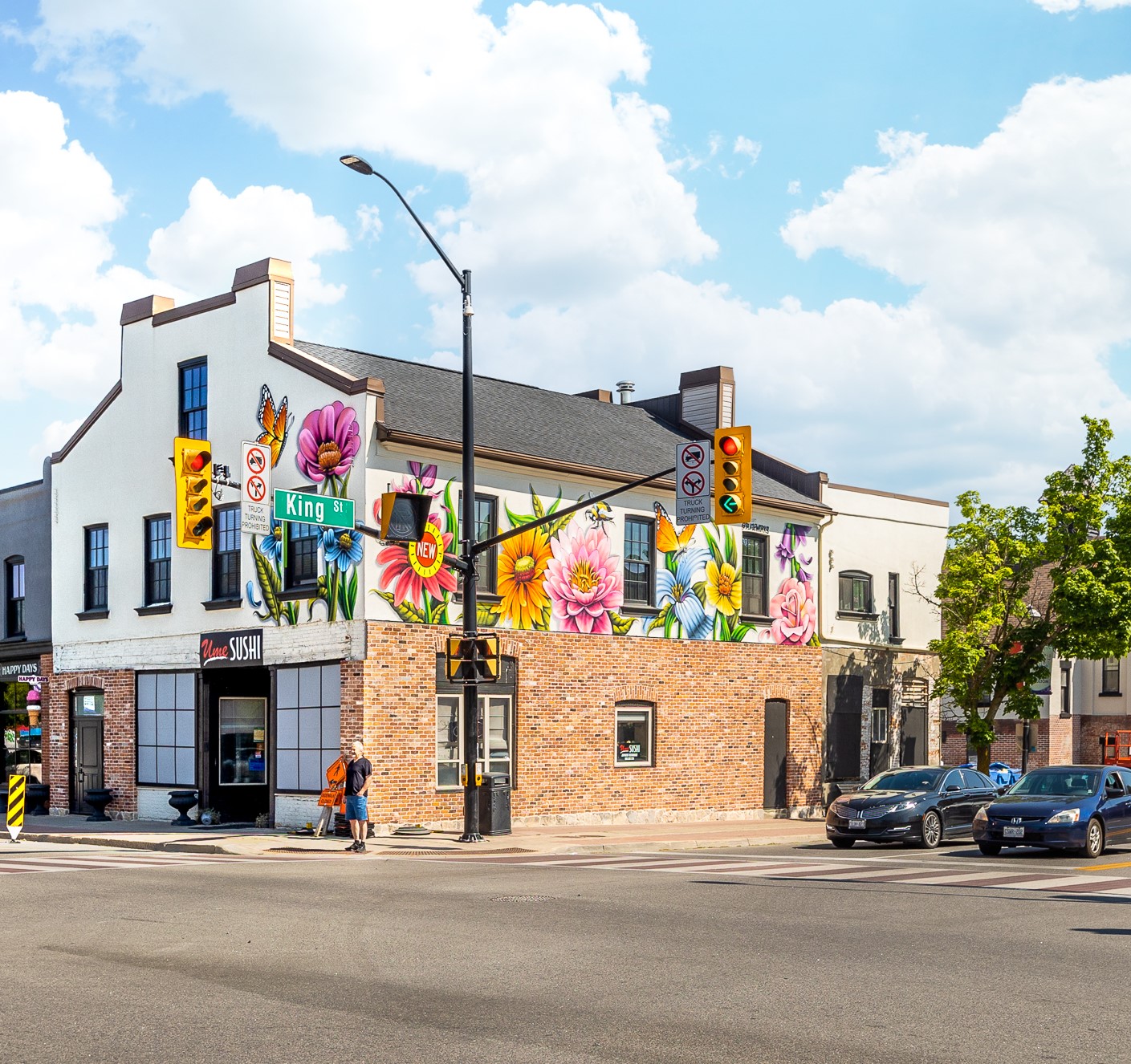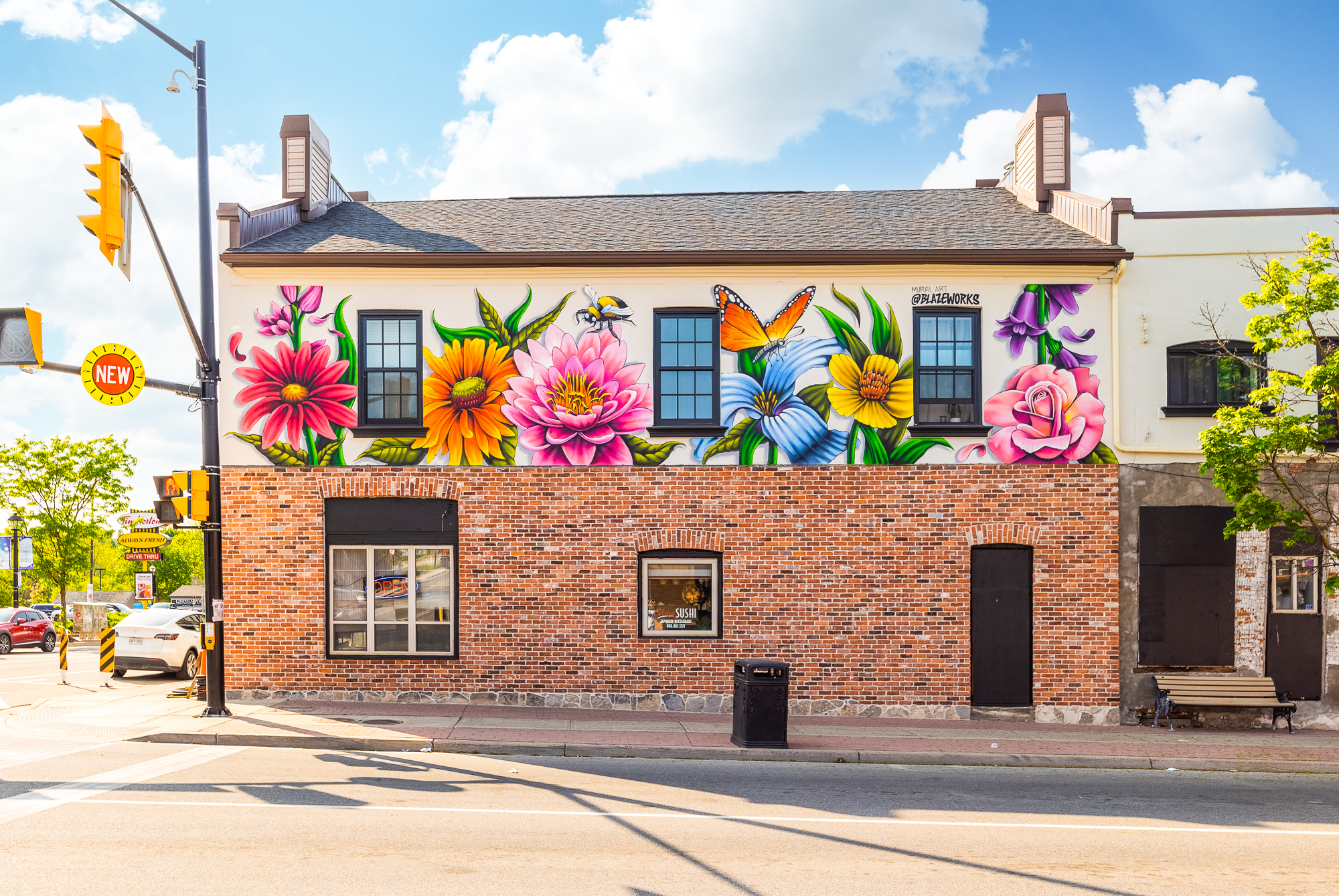 "Nature's On Your Side" by MAED Studios
The Humber Lea Bridge mural is part of the Downtown Bolton Revitalization plan. You can visit the mural as you drive or walk past the Humber Lea Bridge. The artist was selected from an expression of interest that was circulated to the public this past summer. Bolton resident Vanessa Spizzirri is the owner of MAED Studios and was selected by the Downtown Bolton Revitalization Task Force to collaboratively design the bridge. The artwork is inspired by the Humber River and natural surroundings of the Heritage Trail. Vanessa hopes that the mural will encourage people to slow down and take in the beauty of the area while bringing some positivity to people's days!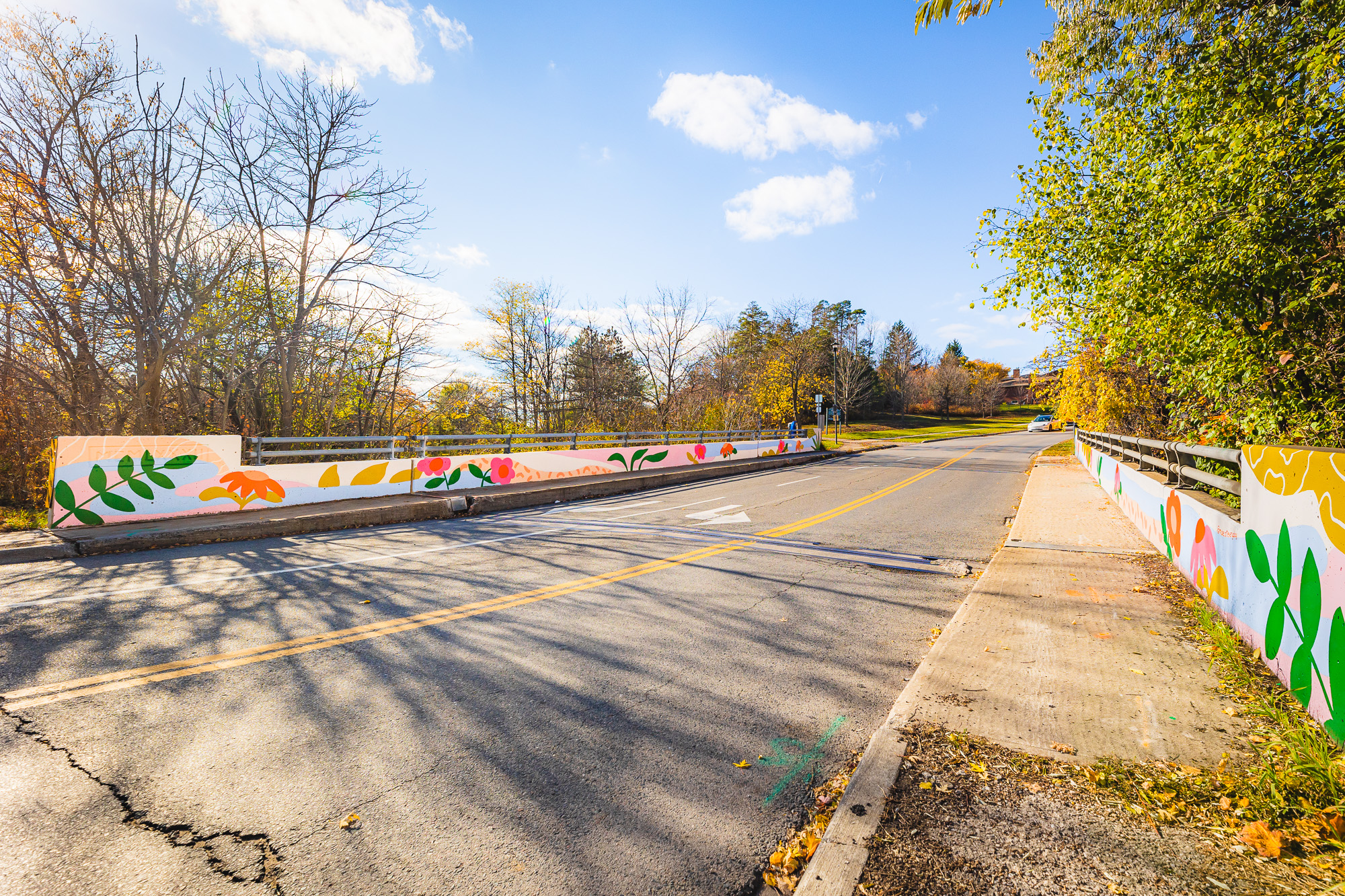 Mural by Blaze Wiradharma
The Queen St. Bridge Underpass mural is part of the Downtown Bolton Revitalization plan. Artist, Blaze Wiradharma, says, "The mural was inspired by the Humber River. This river flows right through the underpass where my mural is located and is an iconic part of downtown Bolton. I wanted to pay tribute to this and highlight some of the many forms of wildlife that the Humber attracts and is home to".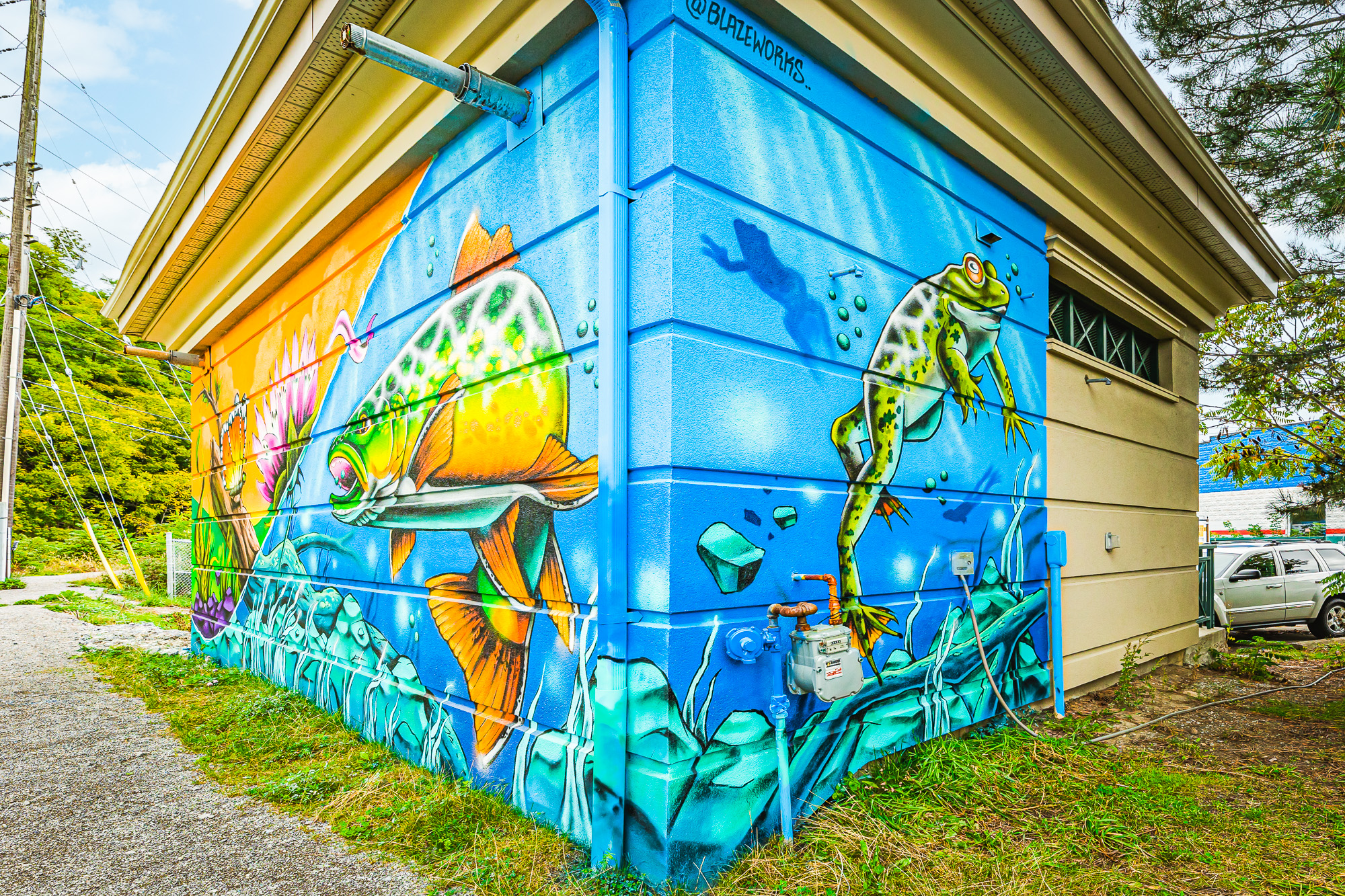 Local history
The history of Caledon is preserved in our historic cemeteries, churches, schools, railways, ghost hamlets, and more. Check out Visit Caledon to learn more about the history and heritage of our villages, hamlets and communities. You can also take a step back in time and explore many of our early settlements through self-guided Heritage Walking Tours.
Early Euro-Canadian Settlement
Originally surveyed in 1818 and 1819, the townships of Albion, Caledon and Chinguacousy were opened for settlement in 1820. Early settlement developed around water-powered mill sites on the Credit and Humber rivers and at various crossroads.
The arrival of the Toronto Grey and Bruce, Hamilton and North Western and Credit Valley railways in the 1870s spurred further settlement in the region. Development was also influenced by the Peel Plain, Niagara Escarpment and Oak Ridges Moraine. While some historic hamlets have disappeared over time, Caledon's present communities continue to reflect early settlement patterns.
Cemeteries
Caledon's cemeteries provide a link to our community roots. If you are interested in local history or family genealogy, you may enjoy exploring the past through our cemeteries. Dating back to the 1830s, our grave markers and inscriptions provide a glimpse into the lives and events of former residents.
Cemeteries in Caledon
There are 25 pioneer cemeteries in Caledon. Explore each of the cemeteries to learn more about the history of community:
Bolton cemeteries
The following cemeteries are located in Bolton:
Caledon cemeteries
The following cemeteries are located in various areas of Caledon:
Albion cemeteries
The following cemeteries are located in Palgrave, Castlederg and Albion:
Terra Cotta cemeteries
The following cemeteries are located in Terra Cotta:
Cemetery symbolism and markers
Cemeteries contain a lot of symbolism that can help us better understand history. Contact heritage staff to learn about the different symbols located in cemeteries throughout Caledon and the surrounding areas.
Churches
The Town of Caledon owns two historic church properties: Melville White Church and St. Andrews Stone Church. Both churches have been restored and are open to the public. Explore the churches and their attached cemeteries to learn more about the history of our community.
Melville White Church
Built in 1837, Melville White Church is the oldest standing structure in the Regional of Peel. The church is located in Terra Cotta at 15962 Mississauga Rd. Contact the Belfountain Heritage Society to learn more about renting the church as well as the history and restoration of the building.
St. Andrews Stone Church
Built in 1857, this stone church once served a Scottish Presbyterian congregation. The Church is located in Caledon East at 17621 St. Andrews Rd. and is now owned by the Town of Caledon. Contact the St. Andrews Stone Church for more information about renting the church as well as the history and restoration of the building.
Ghost Hamlets
Ghost hamlets are places that once housed a small community but were unable to sustain a large enough population to maintain village status. Many of these communities were built around general stores and churches and included residences, barns, drive sheds, hotels or other service buildings. Remnants of these structures are still visible today.
There are 21 ghost hamlets located in Caledon and the surrounding area. They tell a rich history of the area and include heritage cemeteries, buildings, barns and building foundations from communities that once flourished in the region.
History of ghost hamlets
During the period from the end of the 19th century to the beginning of the First World War, southern Ontario went through a period of rapid industrialization and urbanization. As a result, many people moved from rural areas to more urban centers, such as Toronto.
Historical Railways
During the 19th century, the territory that would later become Canada began to industrialize. This was spurred on by the development of railways which increased trade between the colonies. By the 1850s, major east-west railway routes were already built across the southern part of Canada West (now Ontario). At this point, prospectors and railway promoters turned their attention to the resource-rich northern hinterlands and upper Great Lakes Region.
Several of these lines were constructed through Caledon in the 1870s, providing our local communities with direct access to urban markets. These new railway routes secured the economic fortunes of some communities, while causing the eventual demise of many communities that were by-passed. (Ghost Hamlets)
Toronto Grey Bruce Railway
The first railway to cross Caledon was the Toronto, Grey and Bruce Railway, which extended from Toronto to Owen Sound by 1873. There were station stops in Bolton, Mono, Caledon, Alton and Melville and the line later become part of the Canadian Pacific Railway (CPR) network.
In 1932, the section between Bolton and Orangeville was closed and the tracks were removed. You can still see remnants of the railway embankments cutting across the Caledon countryside. The most significant local event on this railway, was the 1907 Horseshoe Curve Train Wreck. Seven people were killed and 114 were injured during the wreck.
Hamilton and North Western Railway
The Hamilton and North Western Railway (HNWR) was built through Caledon in the late 1870s and reached Barrie and Collingwood by 1879. Later owned by the Grand Trunk and Canadian National Railway, the HNWR had stations at Terra Cotta, Cheltenham, Inglewood, Caledon East, Centreville and Palgrave. The railway closed in the 1960s and the 35km route that crossed Caledon was purchased by the town in 1989. This section has been converted into the Caledon Trailway.
Credit Valley Railway
The Credit Valley Railway ran from Toronto to St. Thomas, with branch lines to Orangeville and Elora. The branch line to Orangeville passed through Caledon and has station stops at Cheltenham, Inglewood, Forks of the Credit, Cataract, Alton and Melville. Two of the reasons behind the construction of the northern routes was for southern urban markets to be able access cordwood and quarried stone.
By 1958, the CPR stopped passenger service on the Orangeville and Elora lines and in 1987, the Cataract to Elora branch line was abandoned and later became the Elora-Cataract Trail.
Since 2000, the section of the original Credit Valley line between Orangeville and Streetsville has operated a shortline freight railway as well as the Credit Valley Explorer Excursion train which travels through the scenic Credit Valley.
Historical Schools
Compulsory and free education was introduced in Ontario in 1871 for children up to the age of 12. Prior to that, children were not required to attend schools and many in rural areas only attended school for part of the year. Even though it was optional, many children attended school and school houses were built in Caledon beginning in the 1830s.
Historic schools in Caledon
Alton Public School was the longest operating school in the Region of Peel, first built in 1875 as a one-room schoolhouse. Over the years the school was updated with additions and renovations, but eventially closed its doors in 2013 upon the construction of a new, more modern facility next door.
Four of Caledon's former rural schoolhouses received heritage designation under the Ontario Heritage Act:
Caledon – Silver Creek
Caledon – Rosehill
Chinguacousy – Sharpe's
Caledon – Moffat Schoolhouse
Early schoolhouses
Upper Canada (now Ontario), first passed education legislation in the early 1800s and began to offer partial funding to develop school houses. By the 1830s the first school houses began to appear in Caledon.
Rural schoolhouses were generally located about three miles apart because this was how far the sound of the school bell could travel. Bolton, Caledon East, Caledon Village and Alton each contained a multi-room village school.
Schoolhouse architecture
The original school houses in Caledon were made from logs. These were later replaced with wood-framed buildings made with brick or stone. By the late 19th century school-houses were designed according to the provincial architectural manuals promoted by Dr. Egerton Ryerson and Dr. John Hodgin. Schools were built with lots of natural light and were designed to reinforce right-handed writing. They were also supposed to remove distractions and inspire thought.
Plaques and Signage
We are committed to preserving and promoting local history and heritage. As part of this commitment we have developed a variety of signs and plaques to mark historic places, events and people.
Suggest a plaque or sign
Contact us if you'd like to suggest a new heritage plaque or sign in our community.
Village heritage plaques
Throughout the villages of Caledon East, Bolton, Alton, Inglewood, Belfountain and Palgrave, we have erected heritage plaques. These hand-painted plaques provide information about the use, date of construction and ownership of buildings in the area.
Commemorative heritage plaques
Our commemorative heritage plaques highlight the history of a specific site or event. They provide images and text to explain the significance and teach the public about our local history.
Ghost hamlet road signs
Ghost hamlet road signs mark the location, names and settlement dates of many of Caledon's abandoned ghost hamlets. Please visit the Ghost Hamlet Story Map for further information and the downloadable app.
Ontario Heritage Trust plaques
The Ontario Heritage Trust erects plaques throughout the province to commemorate our history. They typically highlight people, places and events that have contributed to the development of the province or connect with historic themes.
Historic Maps
Maps are an important source for professional historians and amateur history buffs alike! You can learn about the land usage, geography, topography and settlement patterns of the area. View our Airphoto history map to see how the region has changed and developed over the years. Visit the Region of Peel Archives to find a variety of historic maps, including:
1859 George Tremaine Map of Peel County
Fire insurance maps from early 20th century
1854 map of Bolton
A map of Bolton dating from 1854 was found during the demolition of an old house. This map is believed to be the oldest map of the Town.
1877 illustrated atlas of Peel
The digital library at McGill University contains an online illustrated atlas of the Region of Peel dating from 1877.
Local history groups
Are you interested in local history? Consider joining one of Caledon's historical societies. These groups work to educate the public and preserve the history of our community for generations to come.
Albion-Bolton Historical Society
The Albion-Bolton Historical Society is dedicated to preserving, researching, documenting and telling the history of the village of Bolton. They offer historic walking tours and maps as well as educational information such as archives, references and historical papers.
Belfountain Heritage Society
The Belfountain Heritage Society was formed in 1992 and is made up of residents of Belfountain and the nearby villages. The society works to restore, protect and provide heritage designations for buildings and properties in Belfountain with historic significance.
Caledon East and District Historical Society
The Caledon East and District Historical Society was formed in 1984 and aims to promote and stimulate interest in the history of the people and places of Caledon East. They also collect, classify, edit and preserve historic information and share these resources with the wider public through meetings, publications, and presentations.
Caledon Heritage Foundation
The Caledon Heritage Foundation is a non-profit organization that promotes heritage conservation and education within Caledon. They provide a variety of historical resources and online archival material for public use.
Heritage Caledon
Heritage Caledon offers a variety historic walking tours throughout Caledon and the surrounding villages. They also provide heritage designations and work to promote heritage restoration within the Town. You can find these walking tours on Visit Caledon.
Heritage policies
Section 3.2 of the Town's Official Plan focuses on
Built heritage resources
Archaeological resources
Cultural heritage landscapes
These policies can apply to areas and properties that have significant cultural heritage. They also direct how studies are conducted — studies such as a Heritage Impact Assessment, a Cultural Heritage Evaluation Report, or a Heritage Impact Statements.
Street naming policy
Caledon supports the naming of streets after individuals or places of local historical significance through our Street Naming Policy. The policy gives priority to streets named after something or someone with local heritage significance. Each new development is required to have a minimum of one street name based on historical significance.
Museums and archives
To learn more about the history of Caledon or to conduct historical research, visit the Peel Art Gallery, Museum and Archives or the Dufferin County Museum. Here you will find information about the material history of our community.
For further information such as consensus records, war records or immigration records the following Federal, Provincial and Municipal Archives may help: